Camp onsite for non-stop Freaky Deaky action! Pitch a tent, park a car, or go big with an RV – we got you covered. So crew up and camp down with all your friends and freaks at this year's Halloween celebration!
Deck out your campsite to the spookiest level for a chance to earn the title of Most Haunted House in Freaky Town. Be judged by The Mayor of Freaky Town himself (hope you're on his good side).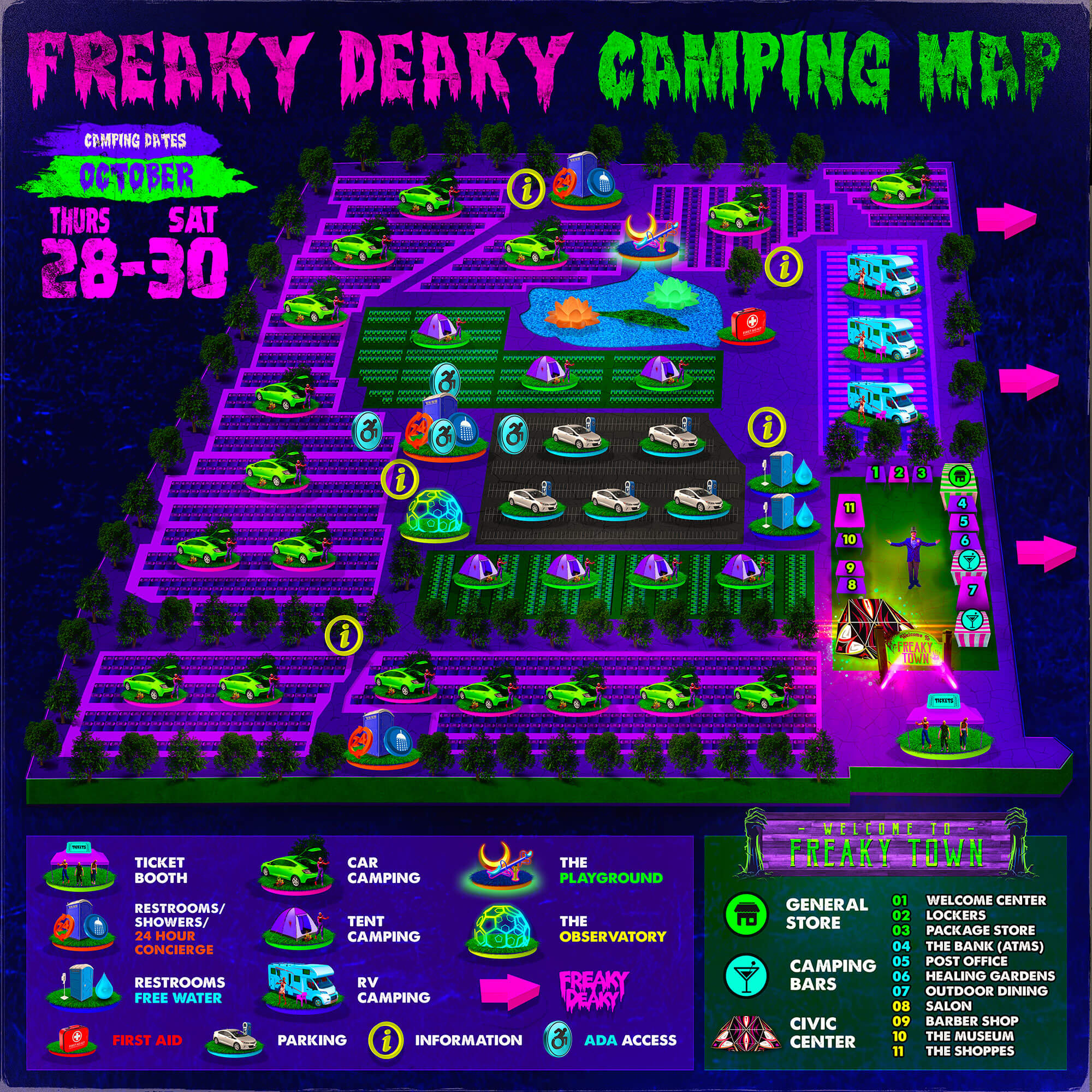 Check out some of our amazing camping features this year for the first year of Freaky Deaky camping!
Freaky Town
Join us in Freaky Town for a stroll down Freaky lane! Enjoy the pre-party, late-night sets, morning yoga, and more at the Civic Center. Our museum will feature ghosts of raves past at no cost to you (just your soul).
Before you head into the festival grounds on Friday and Saturday, meet up with your friends at our You Do You station, set up with plenty of mirrors so that your whole Freaky Fam can get ready together. Check out the Salon for all your lady Freak needs including hair braiding, makeup, glitter, and more. For the Freaky bros, check out the Barber Shop for a new do fit for a Freak. Lady Freaks and Freaky bros can meet up at the healing gardens for a massage to prep your necks for all the headbanging to come.
After an amazing day of Freaky activities, stop by the post office to send free postcards to your Freaky families and friends who couldn't join you.
The Playground
Come get your thrills on the LED see-saw, or reach frightening heights on the LED swings. The Haunted lake will be the perfect view for your late-night adventures with your fellow Freaky Town citizens. Become enchanted by the supernatural lake, along with the glowing water features and creatures it harbors.
The Observatory
This will be your reset zone. Relax and kick back in the grass, take a seat and drink some water, meet up with your fellow Freaks. Don't forget to lay down and look upon the Freaky Town sky, it's only here once a year after all.
Free Water
Free touchless water stations are open 24 hours a day. Hydrate or Diedrate.
Restroom / Showers / 24 Hour Concierge
Restrooms, showers, and 24 hr concierge will be available at three different locations through the campgrounds. They are there to help you with all your after-hours needs.